Bericht
»I am eager to see the progress the kids will have made by the end of the school year.«
My name is Shannon Stolzenberg. I was born in Cape Town, South Africa, where I grew up in a bilingual home. I am 25 years old and have been living in Lübeck for close to three years. I started my journey as an English native speaker at Trave Grund- und Gemeinsschaftschule and Trave Gymnasium in October 2020.
‍
Initially, the kids were baffled by the idea that I was not from the USA or England, yet my home language was English. I saw this as an opportunity to highlight how widespread the English language is. It was important for me to accentuate its global use and how it connects people from different countries and circumstances to communicate barrier-free.
‍
I work with children from the 3rd grade until the 10th grade. In class I take on an assisting role, making sure I am available to put any ideas the teacher has into practice. Whether it be working with smaller groups to practice speaking and listening or working one-on-one to explain new grammar. We also work on mediation or sing nursery rhymes that fit the topic we are dealing with.
Outside of class, whether it'd be during break or on the walk home, we talk about whatever they want to talk about. The kids would tell me about their extracurricular activities or what they did on the weekend. We discuss movies, television shows, and books they have read. Often, I would get
asked questions about my family and South Africa. During breaks, we would play hand-clapping games – some of which I played when I was in primary school. It's always great fun! Sometimes we even switch it up and translate their German hand-clapping games into English.
‍
It's important that I use the vocabulary or grammar they are currently working with in everyday conversation. That way I can ensure they recognize English as a living language and not just another subject where you write exams and get a grade. The most rewarding feeling is when kids who don't trust themselves to speak English strike up a conversation with me. It's good to know that they associate me with English. A few have also proudly mentioned that they started rewatching their favorite movies or shows in English. This is exactly what I was hoping would happen – they're incorporating English in their daily lives on their own.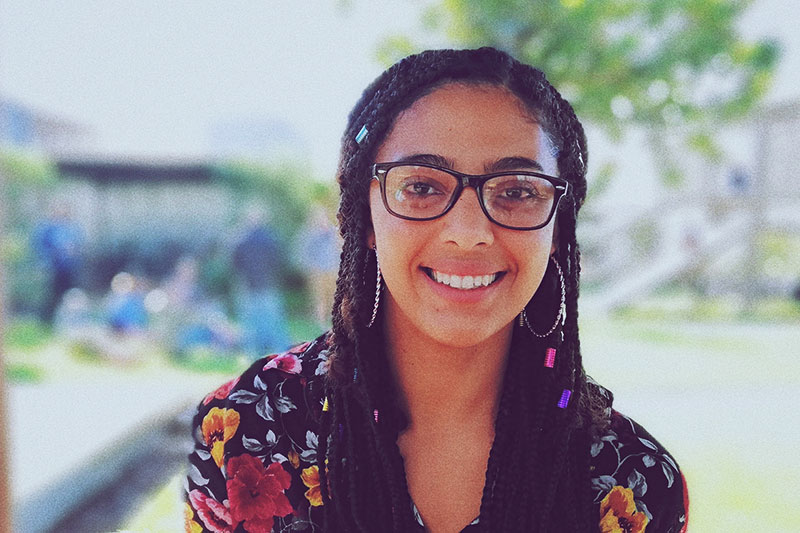 Shannon Stolzenberg
I find my job incredibly fulfilling because languages are something I am very passionate about. And seeing how the kids have grown just encourages me to continue forward. I am eager to see the progress the kids will have made by the end of the school year. I take my hat off to TGGS and TGL for being pioneers and giving the kids an edge in a globalized world. I can't wait to see what the future holds for them.

Shannon Stolzenberg • Native Speakerin an der Trave-Gemeinschaftsschule und am Trave-Gymnasium
› zur Bericht-Übersicht